Macular Health in Glaucoma: Is Macular Pigment Important?
Lutein, zeaxanthin and meso-zeaxanthin preferentially accumulate in neural tissue, including the macula, where they form macular pigment. Macular pigment has been extensively researched in terms of ocular health and disease prevention, particularly in relation to age-related macular degeneration (AMD). A less obvious target for macular pigment research is glaucoma, a neurodegenerative disease characterised by axon degeneration in the optic nerve and retinal ganglion cell (RGC) death.

Without treatment, glaucoma inevitably progresses to cause significant vision loss and is now a major cause of irreversible vision impairment and blindness worldwide. Although glaucoma is traditionally considered a disorder affecting peripheral vision, central (or macular) RGC losses are common and can occur early in the disease. Consequently, the functional losses caused by glaucoma impact various aspects of daily life, including everyday tasks that require good near and central vision, such as reading, mobility, and driving.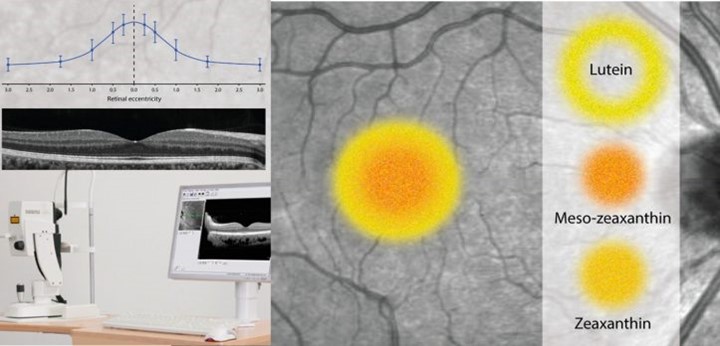 Lutein, zeaxanthin and meso-zeaxanthin selectively accumulate at the macula
The most common visual symptoms reported among patients with glaucoma are poor tolerance of glare, present in up to 70% of individuals affected, and difficulties with adaptation to different levels of lighting. The aetiology of this glare disability in glaucoma is poorly understood and, currently, little can be offered to the patient to alleviate this debilitating problem. Macular pigment is of specific interest, because of its potential to positively influence macular health and the experience of glare.

Macular pigment has ideal properties, in terms of location and spectral absorbance, to be beneficial for visual performance and experience, and has long been a research priority at the Centre for Eye Research Ireland (CERI). We have previously shown that healthy individuals with higher Macular Pigment Optical Density (MPOD) experience less disability glare and demonstrate better photostress recovery times when exposed to intense bright light.

Furthermore, oral dietary carotenoid supplementation has been shown to increase macular pigment levels and thereby improve glare disability and photostress recovery in healthy individuals. Similar to glaucoma, individuals with AMD commonly suffer from disability glare even in the presence of early disease. Dietary carotenoid supplementation can enhance various aspects of visual function, including visual acuity, contrast sensitivity and subjective glare recovery in people with AMD.

Our initial investigations were the first to illustrate that macular pigment is indeed depleted in people with glaucoma, whose pigment levels were almost 40% lower compared to age-matched healthy controls. Among people with glaucoma, those exhibiting signs of macular damage (Ganglion Cell Complex (GCC) loss surrounding the fovea) have lower macular pigment compared with those without foveal involvement. Moreover, lower macular pigment in glaucoma appears to be associated with more severe vision loss, and greater impact on quality of life because of glare disability. Interestingly, low macular pigment was also recently identified as a risk factor for primary open angle glaucoma among older women in the Carotenoids in Age-Related Eye Disease Study (CAREDS). In this longitudinal study, women with the lowest macular pigment levels in the baseline assessment (conducted between 2001–2004) were more likely to have developed glaucoma when assessed again in the CAREDS 2 follow-up study (conducted between 2016–2019).

Several potential causal mechanisms might explain these observations that macular pigment can become depleted in glaucoma or in those predisposed to develop glaucoma. Loss of MP might relate to the high oxidative stress environment associated with the disease, to retinal microcirculatory deficits which might impact transport of carotenoids to the eye (impaired ocular blood flow is a known risk for glaucoma), or to structural damage affecting macular pigment deposition and storage in the retina. Until recently, however, it remained unclear whether supplementation with these carotenoids can generate measurable benefits in glaucoma. Our latest investigation, the European Nutrition in Glaucoma Management (ENIGMA) trial, is the first study designed to explore the possible benefits of nutritional supplementation with lutein, zeaxanthin and meso-zeaxanthin as an adjunct therapy in glaucoma.

Sixty-two subjects with open-angle glaucoma and no other underlying ocular disease were enrolled into the ENIGMA trial. Each participant was assigned to a daily supplement containing either 10 mg lutein, 10 mg meso-zeaxanthin, and 2 mg zeaxanthin in a sunflower oil suspension (commercially available as Macushield) or placebo. Participants took the supplement (or placebo) daily over an 18-month period and were examined every 6 months to evaluate their macular pigment, vision and cognitive function changes. The trial has just completed and made some key discoveries which are relevant to clinicians and patients affected.

The ENIGMA trial's first and most important outcome was to demonstrate that macular pigment in glaucomatous eyes can be augmented by supplementation with lutein, zeaxanthin and meso-zeaxanthin. The greatest relative benefit was observed in people with the lowest baseline levels of MP, with some people experiencing improvements of two to three hundred percent. Increases were seen across all participants (other than one non-compliant individual), however, with an average increase of 60% in pigment volume over the 18-month trial duration among those taking the macular carotenoid supplement, whereas pigment levels remained unchanged among those taking placebo. The biggest change was observed in the first six months of treatment, but pigment levels continued to increase throughout the full 18-months (even in those with higher starting pigment levels), indicating a benefit of long-term supplementation in all participants.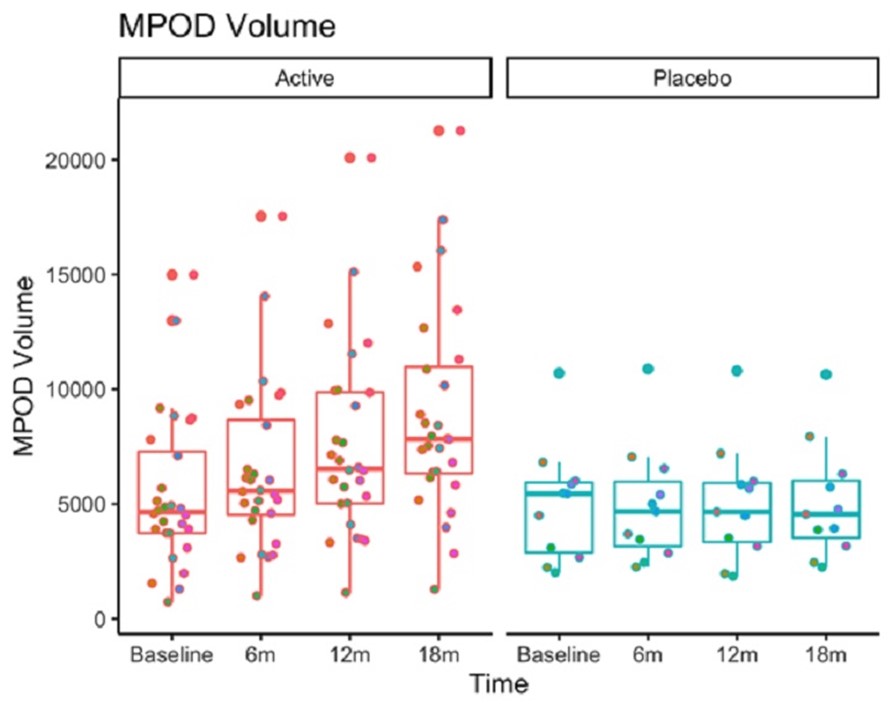 Among individuals with glaucoma, macular pigment increased at every time point in the active treatment group but remained stable in the placebo group

Another important finding is that the improvement in macular pigment in the treatment group was accompanied by a significant enhancement in glare-affected contrast sensitivity under night time conditions. Although glaucoma can be asymptomatic in the early stages, problems relating to glare disability and dark adaptation are reported commonly by individuals with glaucoma and are not typically addressed with current therapy. This finding is particularly exciting as a sign of improved visual function over time despite the typically progressive nature of the disease.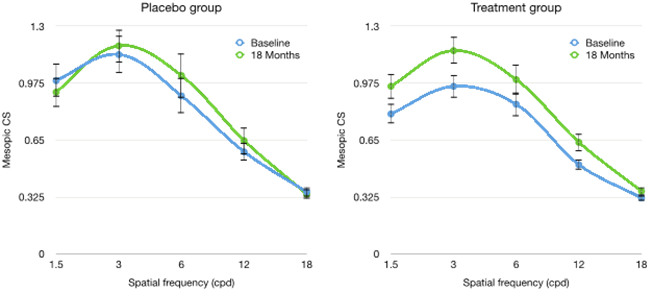 Macular pigment treatment group experienced significant improvements in mesopic contrast sensitivity under glare conditions
What does this mean for my patients and me?

The ENIGMA trial provides clear evidence that MPOD can be augmented in individuals with open angle glaucoma and leads to improved visual performance in the presence of glare. A supplement formulation containing 10 mg lutein, 2 mg zeaxanthin, and 10 mg meso-zeaxanthin can generate a sizeable and continuous increase in overall macular pigment levels throughout an 18-month treatment window. These findings are significant given that macular pigment seems to be lower among individuals with glaucoma and those at risk of developing glaucoma.

Macular pigment exhibits specific biological qualities that may confer neuroprotective benefits in the glaucomatous eye. Optically, the pigment limits retinal exposure to high-energy short-wavelength blue light and thereby has the capacity to limit light-mediated oxidative damage at the macula. Additionally, as potent antioxidant and anti-inflammatory nutrients, lutein, zeaxanthin, and meso-zeaxanthin may support RGCs and may confer protection in glaucomatous eyes by inhibiting reactive oxygen species and preventing the pathophysiologic consequences of oxidative stress and inflammation.

Where to from here?

With a rapidly growing and ageing global population, the number of individuals suffering from glaucoma is estimated to reach 111.8 million by 2040. Notably, glaucoma affects health-related quality of life and influences health status more broadly as a contributing factor to falls, motor vehicle collisions, mental health disorders, and cognitive health decline. The effective control of glaucoma, alleviation of symptoms such as glare disability, and avoidance of vision impairment, therefore, can deliver substantial socioeconomic and health impact.

Even if you cannot measure macular pigment in practice, macular carotenoid supplementation might be useful as an adjunct therapy to optimise visual function and preserve macular health in glaucoma. This may be a particularly beneficial recommendation for any of your patients complaining about symptoms of glare (not just those with glaucoma).

Our next research priority is to explore the possible lifelong benefits of macular pigment by examining whether longer-term supplementation might contribute to the avoidance of vision impairment and optimisation of neurological function in people diagnosed with glaucoma. The effect of glaucoma on cognitive function and the potential benefits of macular pigment supplementation will also be explored and will provide the topic for a future blog.

Further Reading

Macular pigment and visual response to supplementation in glaucoma – results from the ENIGMA trial: www.sciencedirect.com/science/article/pii/S2666914521000373